I actually like Comic Sans, for some strange reason. I like to read my email in Comic Sans, it gives it a less serious feeling. "We have six chapters we forgot to tell you about" just sounds better in Comic Sans. If it was in Times New Roman, I would be horrified! My typographer friends are probably horrified to hear this about me, but since I don't design for a living, I hope they will get over it.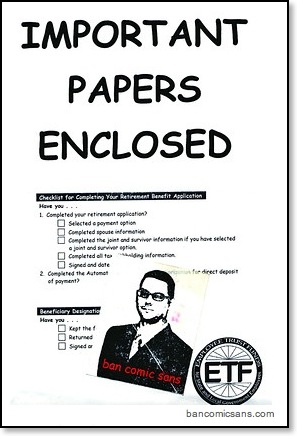 For those of you who might like to know the history of this typeface, here you go:

The proliferation of Comic Sans is something of a fluke. In 1994, Mr. Connare was working on a team at Microsoft creating software that consumers eventually would use on home PCs. His designer's sensibilities were shocked, he says, when, one afternoon, he opened a test version of a program called Microsoft Bob for children and new computer users. The welcome screen showed a cartoon dog named Rover speaking in a text bubble. The message appeared in the ever-so-sedate Times New Roman font.

Mr. Connare says he pulled out the two comic books he had in his office, "The Dark Knight Returns" and "Watchmen," and got to work, inspired by the lettering and using his mouse to draw on a computer screen. Within a week, he had designed his legacy.